Package Contents
Z16 Intelligent Security Camcorder
5V DC Adapter
USB 2.0 Cable
Quick Start Guide
Technical Specifications
Storage temperature: 0 to 45degC (32 to 113degF)
Operating temperature: 0 to 45degC (32 to 113degF)
Dimensions: 10.2 x 4.3 x 1.9 cm
Battery: 1200mAh 3.7V Li-ion
Adapter: 5V, 600mA DC adapter with mini USB out
Current consumption: 100mA
Recording time: max 10 hours (with fully charged battery)
Standby time: max 90 days (in vibration triggering power saving mode with fully charged battery)
Sensor resolution: 1280 x 960
Sensor sensitivity: 1.3V/lux-sec
Sensor viewing angle: 160deg
Microphone: speech grade
Memory card supported: max 64GB micro SD card (TF)
Memory usage: 15 minute/GB (high frame rate), 1 hour/GB (low frame rate)
Video recording resolution: HD 720p (1280 x 720) or 360p (640 x 360)
Video compression: JPEG
Voice recording: 12kSps, 8bit
Voice compression: PCM
File format: AVI
USB: Mass storage device
OS supported: Windows 2000 / XP / Vista / 7 / 8, Mac OS X
Design & Build Quality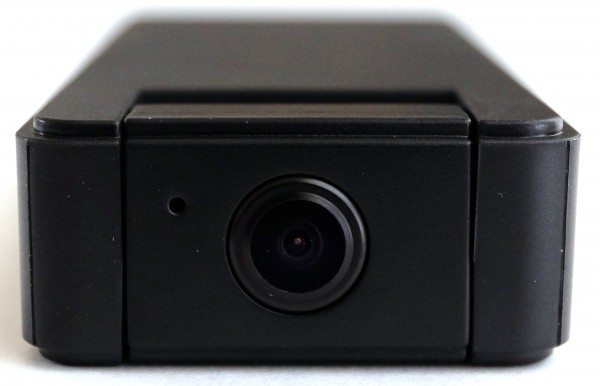 The Zetta Z16 is a small rectangular security camcorder measuring 10.2 x 4.3 x 1.9 cm. It is lightweight, made of rigid black plastic, and seems sturdy. The front of the Zetta Z16 has a 160 degree angle lens and a microphone (there are no IR LEDs to aid in night recording). The lens of the camcorder is mounted on a swiveling mechanism and thus can be adjusted up to 180 degrees top to bottom for greater flexibility of recording angles. Up close the lens is reminiscent of HAL 9000, minus the red glow. "Open the pod bay doors, HAL." "I'm sorry, Dave. I'm afraid I can't do that." It's just a little unnerving… Okay, on with the review.

One side of the camcorder has (from left to right) the micro SD card slot which is compatible with up to a 64 GB micro SD card (cards should be class 4 or higher); the charging/recording indicator light; a selector switch to go from continuous low resolution recording in "Surveillance" mode, motion triggered high resolution recording in "On-the-GO" mode, or "Custom" mode recording (set up using the PC widget); and the power button.
Indicator light status:
Without DC adapter:
Green LED on: camcorder is booted up
Red LED on: no card, card failed, battery low, or card is full (not in circular recording)
Green LED flashing: normal recording
Green / Red LED intermittent flashing: battery low and recording
DC adapter plugged in:
Orange LED on: charging but no recording
Green LED on: charging complete but no recording
Green LED flashing: charging complete and recording
Green / Orange LED intermittent flashing: charging and recording
Red LED on: no card, card fail or card full (not in circular recording)
Connected to computer:
Orange LED on: charging
Green LED on: charging complete

The other side of the camcorder has the data transfer/charging mini USB port to connect to your PC, MAC, or the power adapter.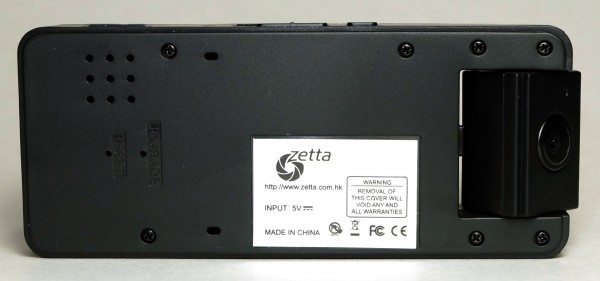 The bottom has reset and upgrade (to upgrade firmware) switches which require a small straight tool to be inserted into them while pressing on the power button at the same time (the camcorder also needs to be plugged into either the computer or an outlet) to activate the feature.
Setup & Use
First I downloaded and installed the PC software widget from the Zetta website. The widget is available for Windows 2000, XP, Vista, 7, 8 and Mac OS X. I used the Windows PC widget.